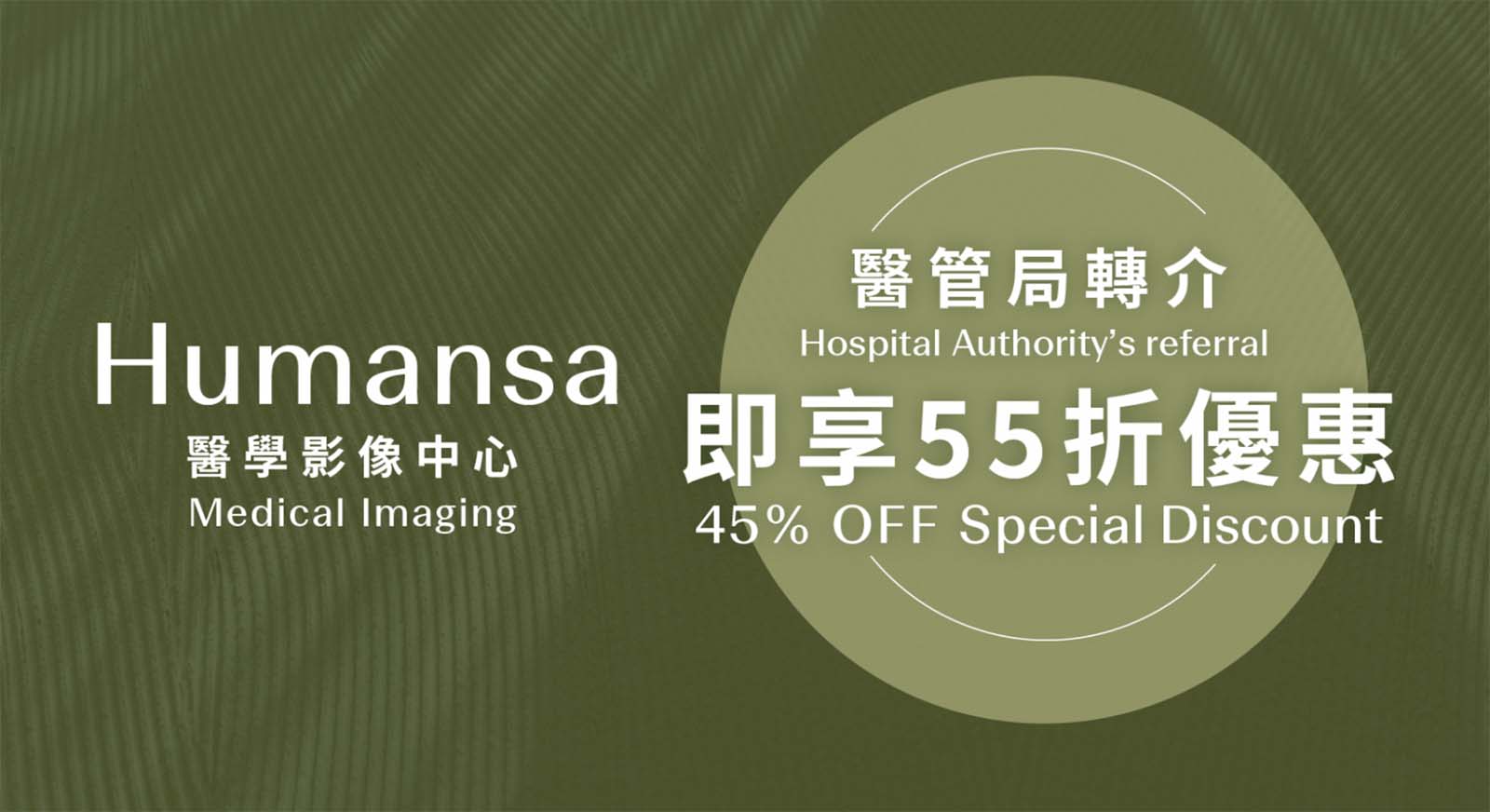 Medical Imaging Service – 45% OFF on Hospital Authority's Referrals
The demand for medical imaging services continues to rise in public medical institutions, resulting in significantly prolonged waiting times. In order to avoid delays in crucial treatment periods, Humansa Medical Imaging Center has established "45% OFF Special Discount for Hospital Authority Referral Cases". Patients presenting a referral letter from the Hospital Authority can enjoy discounted services for the following:
HUMANSA MEDICAL
IMAGING SERVICES
As a safe and non-invasive procedure, MRI clearly details images of organs and tissues in the body. Diagnosing various diseases and abnormalities, including stroke risk, hypertension, bone and tissue, kidney diseases, gastrointestinal and liver problems, and more.
Organ details can be observed through CT Scans, producing cross-sectional images to formulate 2D or 3D images for further analyses. Diagnosing cardiovascular diseases, abnormalities or stones in liver, gallbladder, kidney, pancreas, stomach, bladder, urinary tract, and more.
Ultrasound depicts the organs and blood flow in real time through sound waves. Diagnosing abnormalities in thyroid, upper abdomen, prostate in men, pelvis, breasts and uterus in women.
Humansa 3D Mammogram uses X-ray technology to construct the breast image, detecting abnormalities such as cancerous cells in micro-calcification, for early detection of breast cancer and follow-up treatment.
A quick and non-invasive process, X-rays can penetrate body tissues and create images of different body parts. Detecting the problems in bones, lungs, digestive system, internal organs, and more.
As bone mass reduces by age, Bone Densitometry is a safe and painless examination which helps detect bone loss. Analysing bone density and diagnoses osteoporosis for early detection and follow-up treatment.
Humansa Medical Imaging Centre is operated by our team of professionals, and provides quality services. Advanced system applications, equipment and facilities ensure accurate diagnoses, confidence and a comfortable experience. With a dedicated lounge and waiting area for female clients, we ensure comfort and security during and between examinations. As an alternative to traditional image negatives and paper reports, clients can enjoy efficient access to medical images and reports at the fingertips, resulting in a shorter diagnosis period and easy transfer to other physicians.
Book Medical Imaging Services
If you have any enquiries about the plan and special rate, please Whatsapp or call us  for a detailed professional consultation. 
Humansa | Medical Imaging